.Wednesday, March 28, 2007 ' 3:16 PM Y
I just got back from Ngee Ann Poly. Feeling quite shagged. Not because I did anything tiring, but because of the long MRT ride I had to endure. After boarding the train from Jurong East for what felt like 10 minutes or so, I had only reached Choa Chu Kang. 3 stops. Then after reaching Yishun still had to wait 812 because it was raining. Missed the first bus so had to wait for the next one. BORINGGGG...

The main reason I went down all the way to NP was for my laptop. Finally all the procedures for the hire purchase is completed. Hurray!!! I'm going to have my very own laptop! Muahaha. FINALLY! WOOTX!!!! So happy la... Its the first time I'm able to really own anything that belongs only to me (don't count secondary school textbooks la!). And what I'm proudest of is that I'm going to be paying for it myself. The total price after upgrading is $2121, which means I'll paying approximately $70 (interest included) each month over 3 years. Its quite a heavy burden, but I guess I'll just have to work harder ba... The thing is: My parents don't know about this laptop. So I can't use it openly in front of them. BUT. I can use my sister's laptop. Haha. Which sort of means that I have 2 laptops. Maybe you guys are going to scold me for wasting money, but what you don't understand is the feeling of being a garbage can. The feeling that everytime you want to have something, your parents dump your elder sibling's unwanted stuff on you. Books, handphones, laptop. It really sucks la. Either everything is shared, or else whatever you're using is what someone doesn't want. I know that I should be considered fortunate to even have all these things, but now that I'm offered the chance to own something I can call my own, of course I'm taking it. Even if its a waste, then let me waste my own money. No regrets.

Anyway, thanks to Vanessa, I'm now suddenly hooked onto Huan Zhu Ge Ge. My Fair Princess or Pearl Princess as people call it. I'm currently watching the 3rd series and I'm considering collect all 3 series. Really very nice. Especially the soundtrack for the 3rd series. And Leo Ku is so SHUAI la...




See what I mean? Hehe. And look at my current desktop wallpaper: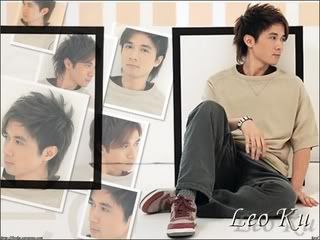 I mean. Gray's desktop wallpaper. Keke. Girls. Doing something like this is a great way to remind your boyfriends that they do have rivals. Lol.
** I'm now on the search for the soundtrack. Anyone know where I can find???