.Saturday, April 26, 2008 ' 4:00 PM Y
Sorry for cancelling on you Ben, but there didn't seem to be much point meeting after dinner. Not enough time to shop. Haha. Date me again another day. =P
Anyways, my movie reviewing blog is officially up with The Forbidden Kingdom as the 1st movie to be reviewed. So
head over there now and check it out
.
Next up would be Doomsday, which should probably be up by tomorrow or so.
I definitely need to go shopping for a new bag tomorrow because the one I'm using right is has a HUGE torn patch which looks freaking unsightly. Luckily, its torn at a place where people can't see it unless I show them. BUT I can see, so its reason enough for a new one. =D
Recently started watching this Taiwan idol drama by Chen Qian En and Ethan Ruan. The pretty and the handsome. Haha. Its called Fated to Love You, and its actually still undergoing filming, so only a few episodes that have been aired on Taiwan TV have been uploaded onto the internet. I've only watched the 1st episode so far and its already gotten me laughing like crazy. Try watching it on Tudou. The Chinese title is called 命中注定我爱你. Confirm nice one~! Haha.
Off to continue watching. Remember to check out my movie blog and tag okay? Thanks all~!
.Friday, April 25, 2008 ' 3:51 AM Y
Remember the movie I Am Legend by Will Smith?


Remember me saying how dumb the ending was, because I was sad that Will Smith died?

Well, all I can say is that Thank God the producers chose that ending. Because after watching the alternate ending, I almost laughed my ass off at the lame-ness.

For those who have watched, yea I know I'm so outdated. For those who didn't even know there was an alternate ending, enjoy.
.Thursday, April 24, 2008 ' 3:24 AM Y
Okay, I finally took some time off to surf around and look for a new skin. Its simple, which reflects my mood right now, and the moment I saw this skin, I knew it was meant for me. Haha. Do you guys like it? Is the font too small?
Which is easier to read:
This: Mary had a little lamb
or
This: Twinkle Twinkle little star?
Remember to tag any comments okay?
. ' 2:11 AM Y
Boring life. Haha. Nothing much to talk about except that its pay week! The brightest point of my life every month. Haha. Cabal-ed the entire afternoon away today at PC Bunk and then had KFC for dinner and then watch The Forbidden Kingdom with Dear.

Its a VERY funny movie which I do not mind watching again, so Ms JLFH please don't KP me okay?

I decided to open up another blog purely for reviewing movies. Don't know whether its going to be as deserted as this, but I thought that since I'm reviewing almost all the movies that I watch, I might as well separate those reviews from my personal blog.

Looking out for nice skins so TAG! if you have any good recommendations.
.Tuesday, April 15, 2008 ' 1:00 PM Y
Hi people! I'm back! I know I haven't been updating for quite some time, so bear with me for this super duper long entry; there're just too many things to blog about.
First and foremost, allow me to officially announce that as of Friday, 11th April 2008, I have officially withdrawn from Ngee Ann Polytechnic, and therefore, am no longer a student there. What my future now holds for me is a three year course with ACCA at Kaplan; 1 year for a CAT which is equivalent to a diploma, and another 2 years for my ACCA certification, which is equivalent to a degree.

Which also means to say that by the time people who entered NP with graduate in the year 2010, I will be in the midst of getting my degree. And that's also the reason why I chose to quit Ngee Ann and enrol in a private school instead. I save 2 years of my lifetime, which could be used to gain additional work experience, and because I'm studying part-time instead of full-time, I can get a job during the day, and that contributes to my resume too.

I know many many people are probably going to think that private schools aren't that recognised, or that they're for people who are stupid, or things like that. All I can say is that, if I could qualify for NP's Accountancy course, that makes me on par with many of my other peers doesn't it? And as for recognition, if you haven't heard of ACCA, you have been living in the mountain caves.

This is what I've decided to do and I'm definitely NOT going to change my mind. So if you're a real friend, smile, wish me luck and leave it at that. If you're going to sneer and put me down or laugh at me, then please make yourself scarce from my blog and hopefully from my life. Thank you.

Anyone who's interested to find out more about the ACCA course can either tag me or head down to the Kaplan campus at Centrepoint.

Alright then. Let's move on.

Dear's birthday is coming in 2 days and I still don't k now what to get for him! Its going to be a belated birthday present, definitely. Because I am so broke that I don't even dare to look into my wallet- its empty. Unless my sister returns my 50 bucks... But anyway, just drop me some suggestions as to what I can get for him yea? Thanks alot.

Went to this karaoke place at Katong with Van and Ben last Saturday, and it was fun! I sang until I almost had a sore throat and it was MUCH cheaper than singing at Kbox, although the facilities were not as good. But I think I'd rather save that additional ten bucks for another trip than blast it on GST and service charge, especially when it takes eons for them to serve 3 glasses of drinks. Bye bye Kbox (for now, haha).

Look at Miss Sexy. Sing also must pose. Haha.




The picture was taken with my handphone's camera. Good huh? =P

Dinner was Katong Laksa and Rojak, which I found quite yummy, although Ben didn't think so. Went on a chocolate shopping spree at Marks and Spencer at Parkway Parade. Its not me, but the other two are CRAZY when it comes to M&S chocs. Oh well... Haha. By the way, the two of you, please remember that we have a date next Saturday okay? Miss Yours Truly will be in a generous mood and will treat you to doughnuts from Donut Factory. =)



Dear and I had dinner at Chicago Steakhouse at Cineleisure during one of the days last week and we were super impressed. Both with the service AND the food. The guy serving us (I think he was the manager) had REALLY good service that even beats the standards at the airport. I'm not kidding. It made us feel happier forking out that additional 10% worth of service charge. As for food: here's what we had:

Dear's steak:




The entire name was pretty long; some Flaming-?-? steak or something. Haha. But when he served it, the nice-guy poured this something on top and it really "flamed"! Cool.

I had this Beer-Aromatic Fish and Chips and it was yumy as well, although the taste of the beer wasn't prominent enough for me.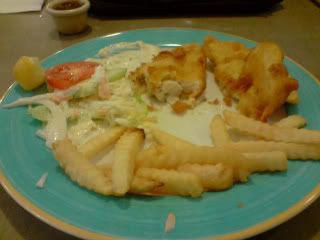 Haha. I forgot to take pictures of our food until we were halfway through, but I think it still looks nice enough lah, right?

If you're looking for some place to lunch and have enough money, try Chicago Steakhouse. Its even cheaper than Fish & Co, except for the steak, but since when have steaks been cheap? Stupid cows. Haha.

We also watched Three Kingdoms: Resurrection of the Dragon, starring Andy Lau and Sammo Hung. The whole story is basically about this hero Zhao Zilong (Andy Lau), who joined Liu Bei's army since he was a young man. They war against Cao Cao's army for years and years and this period of time is considered to be the darkest period in Chinese history.

Zhao Zilong and Luo Ping An (Sammo Hung) become sworn brothers but while Zilong rises fast in the ranks, Ping An remains a lowly soldier. Twenty years after Zilong has joined the army, the war is still on-going, the country is still torn-apart, and the people are still suffering. Nothing has changed for the better, but this time Liu Bei has died, leaving his useless son to ascend the throne, and Guan Yu and Zhang Fei have both perished in the war, leaving behind their sons Guan Xing (Vaness Wu) and Zhang ? (I forgot his name, haha), who are equally useless and are more concerned about showing each other up than fighting for the country.

Zilong is the only remaining surviving general out the the 5 top generals in the army. Meanwhile, Cao Cao has been preceeded by his granddaughter, Cao Ying (Maggie Q).

Expect to see alot of battle scenes, just like in The Warlords, except that its less gruesome and more focused on one hero. I quite liked the movie for its storyline and the good acting. Although some people criticise Vaness Wu's appearance as a spoiler, I found it acceptable. Just because you belong to a boyband does not mean you can't branch out and do different things right?

But anyway, its worth spending money to watch this movie, even if you have to fork out exorbitant prices for a GV ticket. Haha. I still recommend Cathay though.



Got to rush to prepare for tuition at Hougang in about ten more minutes. I'm sick of my current blogskin so I'll be spending some time searching for a new one so do check back okay?
I saw this at the bus-stop near my house. I had a hard time controlling my urge to snigger at the word "purse" because I immediately thought of some fat auntie waddling with her *ahem* purse under her arm. Maybe that also explains the atrocious handwriting and grammar.
Children, if you are reading this, remember to study hard okay? So that next time you lose your "purses" you know how to write a proper Lost-and-Found notice. =)
.Friday, April 04, 2008 ' 12:00 AM Y
I can't find my freaking O Levels' certificate! I've looked in all the possible places but I still can't find that freaking piece of paper!!! And it costs 10 fucking bucks to get a copy from MOE. Bloody hell...
I'm officially one more piece of paper short of my new life. God don't do this to me.
Haha okay. Over-dramatism. But if you really want to know what all that drama is about, pop by again in a couple of days. Heh heh.
Dear and I will be getting to work together in the same company. Our job is basically just to come up with floor plans for marketing some products in shopping malls. The basic pay is 1.1k per month, with a $100 commission for each floor plan that gets approved. And best yet, its a freelance job, so that means that I'm free to get ANOTHER either full-time/part-time job, depending on my preference.
I am on the lookout for jobs again!
.Thursday, April 03, 2008 ' 11:29 AM Y
Trying to learn how to play Bridge on Viwawa, but I can't believe there are so many selfish people who are unwilling to teach or even give you a chance to learn on your own. So feel like giving up. Urgh!
Thanks to SK who invited Dear and I to his birthday chalet last Saturday, and sorry that we had to leave early. Happy belated birthday anyway. =)

Other than that, my entire weekend has been absolutely boring! Dear and I were conned of 20 bucks on Sunday because we went to GV to catch Shutter. We have 5 of that $2 GV voucher and we initially wanted to use them, but according to the ticketing guy, we couldn't use it because Shutter is a new show. CANNOT USE THEN STILL GIVE FOR WHAT? Then what? Does GV expect people to wait for 2 weeks before they can finally catch the show they've been waiting for since the "Coming Soon" period?

I am totally swearing off GV even on Tuesdays when ticket prices are supposed to be cheaper. Because I STILL GOT CHEATED. Well Cathay people, you have earned yourself 2 loyal fans. I hope GV closes down one day; if those are the kind of prices I have to enjoy movies, I'd much rather rent DVDs at 3 times lesser. Even if it means I have to wait longer to watch the show. Urgh!

Anyway, as I was saying, Dear and I watched Shutter last Sunday. Its the same title as the Thai movie Shutter, but the movie is slightly different, even though I have yet to watch the latter. This movie is basically talking about spirit photography, how sometimes when you take pictures, funny images or stuff like that turn up in the photos.
According to some article I've read, almost every Japanese has, at some point or other, has heard of or come across spirit photography. Which probably explains why that restaurant waitress was so shocked when she saw what she saw in the female lead's camera.
The story starts with the wedding of this couple Benjamin and Jane, the guy who is a professional photographer.
They jet off to Japan for a their honeymoon but on the first night, Jane hits this woman on the road. She gets really shaken up, but after regaining consciousness, she realises that there was no body in the place where the woman was supposed to be hit.
It is after this incident that weird images start to turn up in the photos that Ben and Jane take. When they consult a suppossedly famous medium, the guy tells them that "I can't help you". Haha. Jane wants to probe further but Ben thinks he's a quack and storms off.
The whole entire plot is VERY similar to original Thai version, especially the climax of the movie, so I'm not going to review further. Partly also because I don't know what to say that will not spoil the movie for those who haven't watched either version.
Dear and I also watched the Spiderwick Chronicles on Tuesday. I know. That movie is like, ancient, compared to the ones that have just been released, but that was how long it took to convince Dear to watch it with me. I'm not going to review it since mot people have probably watched it already, but trust me when I say that its nice.
I just had a dream this morning, that I had returned back to my primary school, in my Dunman uniform. HAHA. I was mingling with all the other students and somehow NO ONE noticed that Iwasn't wearing the right uniform. I had gotten to the part where the Principal was supposed to chat with me, but then I woke up. Pfttt. Haha. Weird dream, but not exactly unpleasant.
And now, off to Cabal. Sorry peeps, that I keep on squeezing a few days' worth of entries into 1, but I keep getting distracted and end up saving my entries for later. And then it accumulates.
* I am just waiting for my letter of acceptance now, and chances are, I WILL GET IT. *