.Tuesday, May 01, 2007 ' 2:35 AM Y
I want a PSP.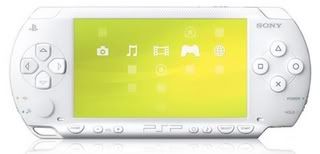 This is the one I want. Haha. Ok lah. Actually I was thinking of getting the PINK one. But the PSP will be shared between Dear and me. Can you imagine a guy like him holding a PINK PSP? No right? So we agreed on the white one instead. Walked around Tampines Mall today asking about the prices. I initially wanted to get a Nintendo DS, but Dear managed to "persuade" me out of it. Here are some snatches of our conversations:

Me: I want to buy Nintendo DS leh.
Dear: For what?!
Me: Play Pokemon lor. See? Got new one leh. DIAMOND version somemore.
Dear: You want to spend $200 plus just to play Pokemon?!!
Me: No what. Can play other games. *spots Cake Mania* SEE? Got this also! Then got Harvest Moon, got um, um, um... Alot lah!
Dear: Then you might as well get PSP. Can download game somemore.
Me: But PSP no Pokemon leh! =(
Dear: Play other game lor. Its more worth it lah...
Me(spots a PSP version of Mahjong): Okay lor...

Haha. That's about it. A little exaggerated I admit. But I didn't invent or take out any content. I swear. He hasn't really agreed to letting me buy the Mahjong game. But we'll cross that bridge when we come to it. Keke.

Anyway, Shawn just sent me the class photos. One whole album. But this is my favourite: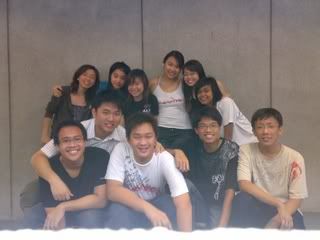 Know why? Because I look nicest in this one. Haha. I'm SO vain. But its okay. Its my right as a girl. This is actually the scaled down version. The original one looks much nicer. I'll be uploading it onto the slideshow so look out for it too k? Anyways, Nana and I finally got to taking a photo with Shawn. Yup. Just the 3 of us. And here it is:




Okay I know I look really weird in this picture but its just the camera angle ok... Haha.

I think most of you can see that I'm starting to add more pictures and stuff to my entries. Yup. I'm really trying. From now onwards I'm going to try and put a few pictures in every entry so that its not such a headache to read. Thanks Shawn. For the complaint. Haha. So next time you won't have any excuse NOT to read my blog. Especially when I post your handsome face here.

I really high liao. Haha. Its time to sleep lah. Or else tomorrow no energy for school again. Its our second lesson for Hip Hop! I'm expecting to be totally tired out by the exercises. Update again tomorrow or something okays?