.Tuesday, March 25, 2008 ' 3:29 AM Y
I've been SO busy lately that I simply haven't been able to find the time to blog. So pardon the super long entry today. Haha.

Agenda includes random rantings, my brand new LG Viewty, my trip to the MINT Museum of Toys (I know! Finally!) AND catching my FIRST midnight movie (not including the Death Note marathon). Not to mention the HUGE amount of pictures.

To randomly start off, I finally hauled myself to the gym today. With Dear. Haha. Spend close to an hour before we walked to Khatib to take bus home. We rotted the WHOLE afternoon away taking turns playing CabalSEA, which is a truly cool game. Much better than MapleStory, except for the fact that those Maple kids are starting to infiltrate Cabal as well. Fucking irritating. Some people should teach their kids to stop being so selfish. Urgh!

Anyway, today was my IS selection and I choose Understanding Relationships for the first term and Basic French for the second. Hope I get my choices. I wanted Social Psychology pretty badly but it was all taken. *Pissed*

During dinner today, Dear and I were discussing about the problems I seem to meet whenever it comes to dealing with people. I know I should try to be more confident and stuff like that, but sometimes I try so hard that I end up screwing things up worse. And then my confidence just gets crushed even more. And the way the present world is, people DON'T give you second chances. Not everyone anyway.

On the way home in the bus, I just kept replaying Dear's words and everything else that's happened over the past 1 year and suddenly I'm afraid of what the future holds for me. Bloody cowardly yes, but everyone has fears, no? At least I'm not running away luh.

Moving on to happier stuffs... I got my new LG Viewty last Friday. $278 just flew out of my wallet. Heart abit pain. Haha. But anyway, I didn't get the Samsung G800 because I still can't get over the thickness of it. Before I start worshipping my new phone, allow me to bitch about the guy from the M1 shop who served me when I was upgrading my handphone.
Instead of double checking with me to show me the protection film for the screen, the stylus, whether the memory card and adaptor and other separate parts like the charger and everything were safely in the box, guess what he did?

He showed me how to open the cover of the phone, where the battery and memory card was to be placed, and how to turn on the phone.
HELLO?!!! YOU THINK PEOPLE IDIOT IS IT?! TURN ON PHONE ALSO NEED YOU TO TEACH MEH?!! FUCK YOU!
And if that's not bad enough, he made me put the phone back into the box, go to the cashier to pay first, before I could take it out to start using it.
I'M NOT THAT BLOODY CHEAPO TO TRY AND STEAL A HANDPHONE OKAY?! EVEN IF I TRIED TO, M1 SHOP DON'T HAVE SECURITY SYSTEM IS IT? FUCK YOU AGAIN!
He pissed me off so badly that I almost complained about him to the manager. Almost.
Kind ol' me merely rated his service as "Average" when I replied that service rating SMS. In actual fact, his service was definitely poor. He didn't even speak politely, for God's sake. Someone should just FIRE him. IDIOTIC ASS.


More about the Viewty: it's pretty thick and big too, but at least its light, AND its touch-screen. Haha. Which means I'm using the exact same phone as both Dear and my sister. Haha. I can charge my handphone when I'm gaming in my sister's room on her desktop, when I'm blogging in my room or when I'm napping the afternoon away at Dear's house. Haha.

Oh by the way, to digress a little, Dear's in the midst of clearing his leave. Which means that from now until he ORDs in mid-April, he can stay and home and ROT all the way, provided his campmates don't bother him. Which is literally impossible.

Haha. I'm like a kangaroo. Jumping from one topic to another within seconds. LOL. Back to my new phone. The good thing about it is that its got a huge screen, so its easy to sms through the touch-screen thingy; there's a cool stylus; they give you a FREE Micro-SD adaptor for the mini-SD; and its even got this freaking cool thing called flight mode. When you activate it, the phone becomes signalness. Wonderful for avoiding calls. HAHA.

And the camera is ULTRA good. Witness it for yourself during the next part of the post. But for now...


Stylish packaging...



Awesome phone

Few pictures, yea. But trust me, its definitely worth the money.

Moving on to my trip to the MINT Museum of Toys. I finally got to visit the place after bugging Dear for so long. I was really surprised to find it wedged among rows of shops. Its a really small place! But the collection of toys are so ancient that its pretty cool. Check them out:

(Part 1 of Mint Museum of Toys pictures)
Ancient Tom-cat.



The Beatles' signatures (when they first started out)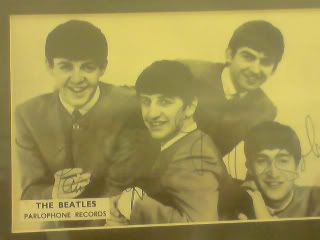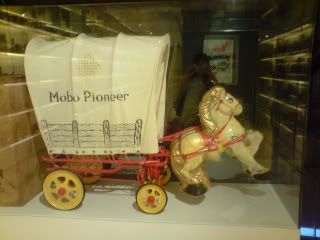 Charlie Chaplin toys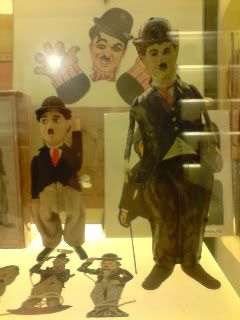 From Germany: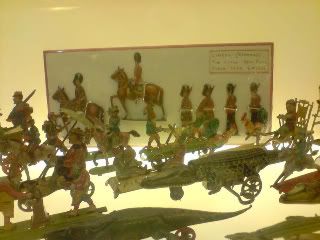 Korean Doll



Toy modelled after Louis Armstrong



So cute!!!



Ancient police car



BC's ancestors. xD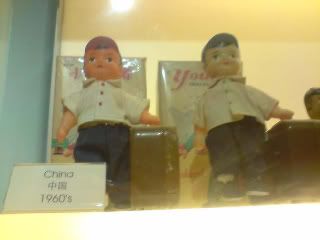 Part 2 will be put up tomorrow because I'm too tired today.
[Disclaimer]


All pictures were taken by my Viewty's 5.0 Megpixel camera, through glass display cabinets, which explains some of the "lines" for the pictures.
Clear right? Except for some, because my hands kept shaking. Haha. And there's a paranoma shot function as well. Hehs.

Technically speaking, this entire post is so long because of so many pictures. But this is just a starter. More to come tomorrow. And next week or so Dear and I are hitting both the zoo AND the Night Safari so expect ALOT more pictures.
Would you guys prefer it if I compiled all the pictures in to a slideshow? Please tag me can?

*Complain* No one tags whenever I ask them to. Just type a few words to tell me yes or no so difficult meh?!!! I spent two hours doing up this entire entry you know??!!!
Now I finally realise how hard it is to "cheer up" your blog. I wonder how people like Xiaxue and Kenny Sia "tahan" the troublesome-ness. I need to get to bed. So tired, yet have to wake up in 4 hours' time. You people better TAG! Just tell me whether you prefer one-by-one pictures or everything combined into a slideshow.
Good night.