.Thursday, March 27, 2008 ' 11:37 PM Y
Part 2 of the MINT photos as promised:


Michael Lee's 1st doll- 1946
(Sorry I couldn't rotate the picture)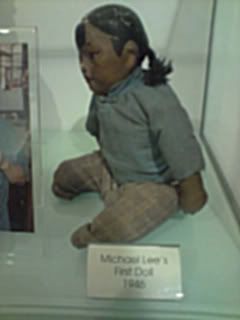 2nd doll-1948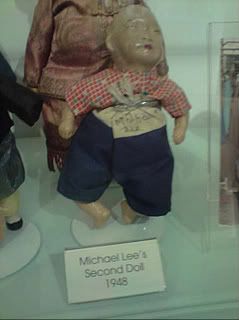 And if you're wondering who Michael Lee is...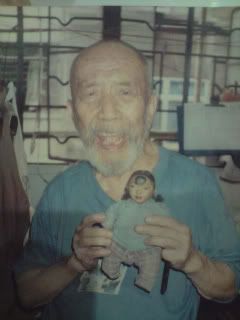 The dolls look scarily real, if you ask me. And there are even scarier ones.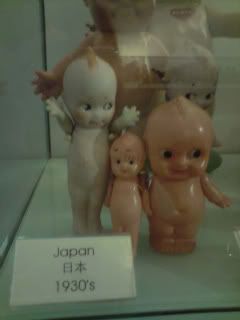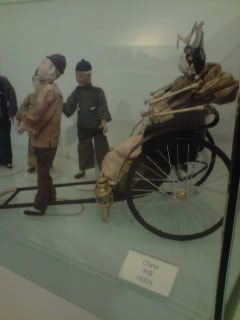 My phone's paranoma shot. Pardon me, 'cause I'm not very good at it. Yet.

Huan Zhu Ge Ge era. Lol.
Ancient bridal costumes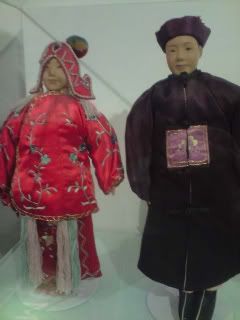 Mickey Mouse storybook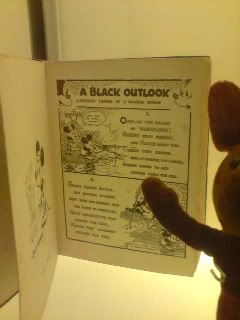 Old movie posters:

The Sword in the Stone
Cinderella (MY favourite)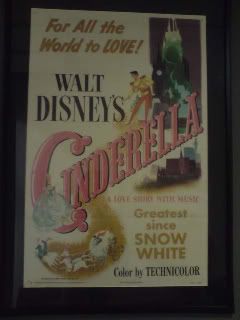 Snow White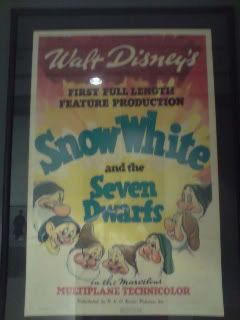 Salt and Pepper shakers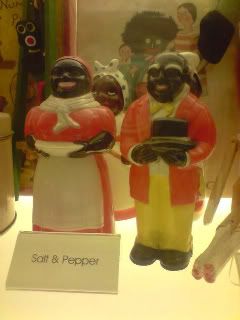 Err... blackheads?
Batman String Puppet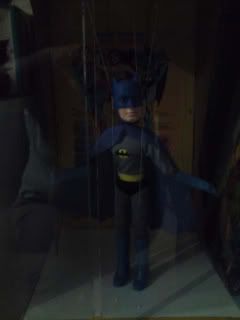 Popeye the Sailorman! Toot toot!
Popeye Super Tank or something. There are only 4 of these in the world. Cool huh?

Popeye's wife. Or was it girlfriend?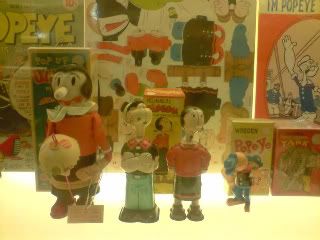 Tintin. Super old.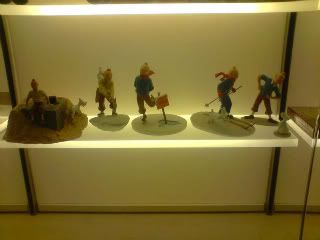 Finally done with the pictures. These are just a select few that are more interesting than the rest. Hope you people enjoyed them!

Moving on to the next part of my entry for the day:

I watched Horton with Dear on Tuesday morning. We had the ENTIRE cinema to ourselves. Imagine that. And yet last Friday when we watched The Orphanage at midnight, the back half of the cinema was filled with people.

Anyway, movie reviewing time. Oh before that, please do take note that Golden Village has increased all its NORMAL ticket prices by 50 cents. Which means you're going to end up paying 10 bucks a ticket on weekends. All prices remain the same for any promotions and students.

If you want cheaper tickets, go for Cathay. Check out the price chart at this website below (not posting up the picture because it would either be too big for my blog or too small for you to read):


http://www.cathay.com.sg/cp_ticketprices.html
But then there's also this current promotion going on that lets you buy tickets at $6 even if you are not a student. Provided you pay by Nets or selected credit cards.

Aren't I an angel? Bleahs. xP

Alright. First up, The Orphange.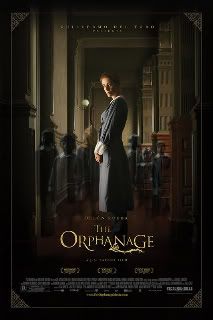 Its a Spanish horror flick about this girl Laura who is an orphan. She gets adopted one day and then the movie suddenly fast forwards to about 20 years later. She's married to a handsome doctor and have a really cute adopted son Simon. They build a house on the site of the orphanage where Laura once stayed at and live there. Laura intends to take in special children to take care of them, but weird things start happening.

Her son Simon keeps talking to imaginary friends (like me, lol) but its not just phase he's going through. Because he can actually draw out what his "friends" look like. And one day, he suddenly disappears when Laura is giving a party to let the special kids and their parents acquaint themselves with the environment. Or at least something along that lines.

Simon's disappearance leads to an investigation, but the police just can't find him, so Laura takes things into her own hands because she refuses to believe that Simon is dead. She starts hearing strange noises and seeing weird stuff around the house. She even invites a medium to "make contact" with the spirits. From this point on you have to watch the movie yourself to find out what happens. If I continue on, I'll be spoiling the movie. Hehs.

In all honesty, the movie isn't really that scary at all but the effects are pretty good. And the actress playing Laura is very good. She brings out all the right emotions at the right times and you actually believe that she screams because she's scared and not because the director asks her to. Not bad at all.

Next up, Horton. Now that's what I call hidden messages in a film. Don't look at it as some dumb elephant cartoon. Its more than that. The whole movie is actually teaching you to respect others for who they are and not try to command power unreasonably. To quote the movie, "A person is a person, no matter how small" and that is one of the truest quotes I've ever come across.

In our world today, so many times we only care about our selfish whims and forget that the people around us are humans too. Competition is everywhere, over everything, until sometimes friends can just turn into foes. Its really scary.

I digress. Basically the movie is quite entertaining, though a little kiddish (but can learn moral values eh). The comedic part is okay, but Horton will delight all the kids for sure. So if you are a kid or want to pretend to be a kid (a.k.a act young), go catch Horton. But maybe not on weekends, because I don't think its worth 10 bucks. =)

I know you people are going to freak out at the sheer length of this entry. Sorry lah. Haha. It was actually blogged over a few days, because I kept stopping to play Cabal. Haha.

Let me just update about today and then you're spared okay?

Well anyway, Dear and I went to meet up Ed's friend, Jovan at Raffles Place today. Jovan is working at this private school (Brookes) at 11 Beach Road and he was kind enough to arrange a special appointment for Dear because we couldn't make it down for the seminar last Saturday. So anyway he basically let Dear know about the psychology courses offered, the prices and all that.

My sister, who came down with us, then suggested him to look in on SMa, which happens to be around that area as well. So we went in. Dear asked about his psychology stuff, which turned out to be cheaper than Brookes. And so, he has decided. Haha.

Dinner was at Han's and the food sucked. The Grilled Fish Dory was so oily and so small a serving for 8 dollars! I think even I can cook better than that luh. Its a miracle that they haven't gone out of business yet.
Shopped around at Bugis area with Dear for awhile (My sister went to give tuition), then sat down to chill at McDonalds. For some weird reason the 2 of us just started discussing about our future. Haha. I'm happy today. *Gigantic smile*
**If everything runs smoothly for me, my whole course of life might just be altered by this one decision on my part. I don't want to let on too much yet, until everything is confirmed, but I can safely say that this move is definitely something that no one will expect, and something that few people can understand. But I'm excited. I'm looking forward to it. Now I just need 2 nods from my parents. And I am prepared to fight for those 2 nods.**
Okay lah. Wrap up. Time to sleep. Long day tomorrow, with gym session with Dear in the morning and 3 tuitions to give. By the way, what do you think of my movie reviewing skills? Haha.