.Saturday, July 26, 2008 ' 12:00 AM Y
Avril Lavigne is coming to Singapore~!

Not that I care. Haha. This is just for the lack of things to blog about.

Another thing. Remember the Sichuan earthquake? Well, even though its been over for quite some time now, the survivors are still barely picking up their lives. Whether you have or have not done your part to help, there is something you can do to help these poor people.

All Popular bookstores now carry this "245-page pictorial book" entitled Sichuan Don't Cry. Each copy costs $20 and all procceds will be donated to the Habitat for Humanity "to give the victims an even better chance to rebuild their lives".

~*~

Dear and I watched Prom Night today. Pretty disappointing movie. *Spoilers ahead*. Skip to the next ~*~ if you don't want to read them.

The female lead is pretty. Haha. And her "boyfriend" is super-duper-oh-my-freaking-god handsome. Hunk. =P

I'm too lazy to look up their names so I'm just going to either use their names in reel life or refer to them as the female/male lead or whatever.

Firstly, the story is little dumb. Predictable and dumb. Especially this part when "Lisa", the friend of the female lead, is trying to escape the psychotic murderer and ends up at this deserted place. There are lots of junk and plastic "curtains" hanging around. Very typical "person-going-to-be-killed" kind of place.

The thing is, they're in a hotel for god's sake! And its supposed to be this really grand and posh hotel. What kind of stupid hotel will ever have such a place? Even if they do, how could it possibly be so accessible by their guests? Stupid or not?

And the victims who die. They're supposed to have been stabbed to death. Its supposed to be bloody and grisly and all, but NO. Their clothes just have these medium-sized patches of blood that look more like a girl's period or something. Lame-O. Even the ending is so...... indescribable.

Let's just say that the director/producer or whoever it was couldn't come up with some brilliant ending so they made it this way.

On a better note, the female lead's acting is pretty good. Her expression when she realised that the psycho was in her room was fantastically genuine.

If you still want to catch it, go for the days when the $6 rates are available. That way you won't feel that huge a pinch on your wallet. Haha.

~*~

Some random pictures:

Dinner at some Japanese restaurant (I forgot the name) at Parco Bugis on Wednesday: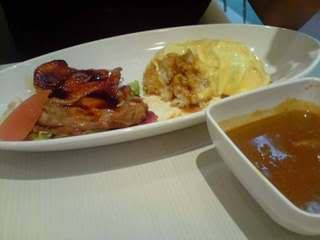 Dear's Grilled Chicken with Omu Curry Rice. Or something like that. It tastes heavenly. I love the omelette that melts in your mouth and the really tasty curry.



My spaghetti. With balls. Lol. That the thingy that Tori-Q calls chicken balls. The menu had some Jap. name for it but I can't remember. Overall pretty yummy, but nothing very special.

And today at McDonald's......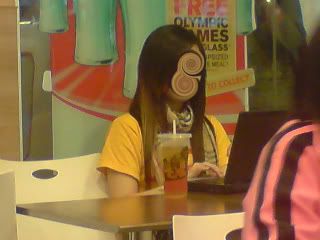 You see, the whole place was filled to the brim; there were at least three or four groups of people waiting for seats and this bitch does this kind of thing. I "mutilated" her face so that she can't sue me or anything.
Why aren't the managers doing their job? Or is it perfectly alright to buy a drink and hog the whole place? Beside her was another girl doing the exact same thing. Talk about inconsideration.
*Extremely pissed off*
Alright. Off the bed. I'm offically sick again. =(