.Thursday, July 17, 2008 ' 11:18 PM Y
Dinner at McDonalds (Compass Point) today was extremely and utterly disgusting.

Maybe I am just too used to the wonderful service I usually get at Northpoint, or maybe it was just too busy, but the ordering process was painfully tedious.

My order: 1 McSpicy meal, upsized, and a McFlurry.

It took almost 10 minutes for them to get me a cup of Coke Light, a Large Fries, the burger itself, and my ice cream.

I'd understand if only one person was doing all the work, but NO. There were close to 10 staffs packed behind the counter, all assisting here and there. Or so it seemed. And they even forgot to upsize my drink, resulting in me having to repeat "I upsized my meal" more than twice.

And when I finally got my order and went to the table where Dear was waiting for me...

TA-DAH~!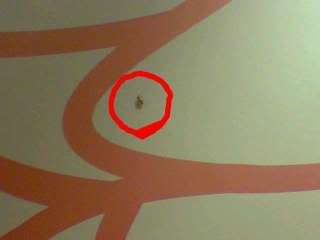 Too small to see? let Yours Truly reveal the mystery.

That thing encircled in red is a baby cockroach.

YES. A cockroach in McDonalds! I don't care whether it is a baby or an adult or even an elderly cockroach which is about to die. Something associated with the words "dirty", "filthy", "digusting" and a whole range of other related vocabulary should NEVER appear in places selling food.

And since it was so frigging busy in the restaurant, all we could do was sit as far away as we could from the horrendous fiend. Anyway, is it part of their job to catch the cockroach? If I were a part-timer and someone asked me to catch a cockroach I'd quit on the spot. Haha.

I tell you... It is extremely disturbing and stressful to eat anything with a cockroach on the wall in front of you. The worry that it will fall into your food nags at you, so that one cannot eat in peace and when the disgusting creature suddenly disappears out of sight, it causes a slight panic. Like, "Where did the bloody bugger crawl to? Is it anywhere near me?!?!?"

Bad experience.

And that's not all. When I was at the counter, someone apparently came to complain about the curry sauce being spoiled. I thought it only applied to that two packets they were complaining about. After all, in so many years of being a McDonalds customer, I have never come across spoiled food or sauces or whatsoever.

I asked for 4 packets of curry sauce and this was what I got:


See the reddish tinge at the side? ALL the 4 packs that I was given were like that. How to eat?
Imagine if someone thought it was normal and ate the sauce and came down with food-poisoning. Horrible!
I am going to go out of my way to avoid dining at Compass Point's McDonalds.
Still considering whether to complain to McD's HQ. Should I???
~*~
I'm officially stopping tuition as a part time job. I already told my Hougang client that I will stop teaching at the end of this month. Instead, I'll be doing admin or data entry jobs. Full time. Which spells the end of my freedom, but also means more income. Haha.
And I will also be able to apply for funding from NTUC Income. Up to 80% of my course fees. Which means I pay peanuts for my CAT. A freaking awesome deal.
By the way, how come information about Richmond, B.C seems so hard to find? Books on Canada cover information on Vancouver but very little is mentioned about Richmond. I am damned interested in finding out all I can about that place, so if anyone has any information that you think might be useful, please email me or just leave a tag. But please don't link me to wikipedia. That would be stupid.
~*~
The Dark Knight has officially opened in all cinemas today and I managed to catch it this morning at Lido. Its an awesome movie, on par with Red Cliff, and just as long. At 153 minutes, it was a miracle I didn't have to keep running to the toilet, although tide was pretty high by the time the movie ended.
The good thing about The Dark Knight is that even though its 2.5 hours long, the entire length of the movie was engaging enough not to make you want to throw popcorn at the screen. The way the movie was cut, it seemed as though the plot would never end, and funnily, I didn't seem to mind even if it continued on, disregarding the fact that I needed the toilet badly and was unwilling to use the one in the theatre.
Something about toilets in the theatres freak me out. Too many ghost stories and the stillness of the toilets make them super duper eerie. But anyway, the main point is, The Dark Knight is worth watching lah. Haha.
~*~
Super random post. Ending soon I promise.
I finally paid off my National Library fines. After owing for more than 2 years. Haha. NLB surely hates me.
Now I can borrow all the history books I want. I've suddenly developed a very keen interest in ancient China history. 5000 years of history and the longest civilisation in the world. And its all part of my ancestry. Hard not to be proud eh?
I bought this book (damn cheaply, $6.90 only!!!) at Popular by Iris Chang titled The Chinese in America which basically talks about the huge influx of Chinese immigrants into America. To digress, some of the details about how the Chinese were treated made me feel damn pissed.
The level of racism was freaking atrocious. Chinese were just lowdown as Negro slaves. And in my opinion, the blacks shouldn't even have become slaves in the 1st place. Afterall, they were the first people inhabiting America. Imagine someone comes along, takes over your country and then enslave you. What the fuck right?
Back to ancient China/Chinese history. The book by Iris Chang, who also wrote The Rape of Nanking, touched a little on the history before the PRC today and it got me interested in all the dynasties and their emperors. Blah blah blah. And according to the history books and information I've been reading about the topic, China people were apparently either super greedy or plainly had nothing else to do. Not the peasants, but the kings and emperors.
How come one bloody country spend centuries fighting war after war? From memory, during one period, China was warring throughout 200 years of history. Thats 20 generations of people living through all that fighting! Imagine when you're born, people are fighting and killing each other, and until the day you die, the same old people are still fighting for the same old thing. And at the end of the day they fight for nothing. Stupid or what?
Of course, the above are just personal opinions. Must state clearly first. Haha. And speaking of borrowing books, the Sengkang library totally SUCKS. The section on history books is so small that it might as well not exist at all. Call that a library? *Spits*
Okay lah. That's a long enough post for today. Its been a long time since I've been so enthusiastic about blogging.
Oh yea. Regarding the McD thingy, do you think I should drop the HQ an email?
P.S. Dear and I will still end up in the same school because he's decided to go for the Kaplan Psychology courses instead. Wee~~!! Too bad we enrol at different times. Haha. Sleeping time~!!